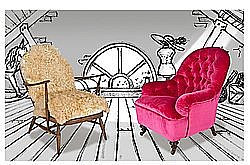 We are a group of award winning upholsterers who are united by a common goal to make old chairs beautiful again.
Using traditional upholstery methods and superb craftsmanship every member brings their own creative flair to each piece. Passionate about our craft, chairs range in price reflecting an eclectic mix of antique, avant garde, modern and vintage chairs for sale.
We know you will be inspired by the stunning transformation that can be achieved through quality craftsmanship. Between us we produce chairs that are as diverse as the individual, timeless pieces, modern classics built to last a lifetime.
Contact us to discuss ideas and commissions.