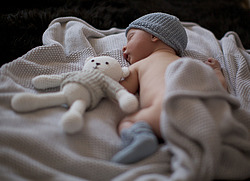 Give them a stick, they have a sword. Give them a tea towel they can fly. You see a sheet, they see a den. They see mud, they see excitement. They are children, let them be. They are our inspiration and we love them, no matter what!
A childrenswear brand beginning with baby knitwear gifts. As mums to little ones we know how we cherished those precious first gifts. We feel there is an opportunity to create timeless, heirloom pieces in contemporary colours that are comfortable for babies to wear and play in every day.
We met through working together as babywear buyers for large blue chip companies which saw us travel the world searching for the best quality products. We are now mummies to three little ones, and wanted to combine our passion for designing and sourcing beautiful garments and accessories with our experiences of welcoming new additions into our lives.
Our collection consists of our signature pieces of cardigans, blankets, hats and our hand knitted booties and teddies. Each piece is lovingly finished by ourselves and hand-wrapped in The Little Tailor branded tissue paper. To make an extra-special gift, we also offer the option of having your purchase carefully wrapped and then placed into our bespoke luxury gift box, finished with ribbon and a personalised gift tag, with your own, unique message.
All of our products are made in 100% cotton, using only premium long-fibre yarns, creating a soft, breathable fabric against a newborn's delicate skin. Our garments are also practical and durable and can be machine washed (including our little teddy) and worn again and again. The collection is designed, wrapped and boxed in the UK and is ethically sourced.