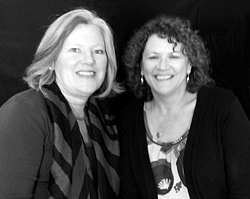 Having been close friends since meeting in our teens, Jane Myhill and Gail Shreeve formed The Kandula Tea Company in 2011. Kandula Tea is an independent tea company importing premium whole leaf teas and infusions from Sri Lanka.
Taking an innovative approach and working closely with our selected tea blenders we have created a bespoke collection of blends that offer a great repertoire of flavours to suit moods, moments and lifestyles.
Our award winning Ceylon teas are ethically sourced and are grown and handpicked in Sri Lanka. They include rare Single Estate green and white teas and classic Orange Pekoe black teas, plus Spiced Fruit and Herbal Infusions containing whole fruits and whole Ceylon spices.
Because our teas are of such high quality, and are so beautifully packaged, they make great gifts for tea devotees and elephant lovers alike. We have also created a bespoke teatime accessories collection to compliment our teas. We can gift wrap your chosen items for you with a choice of a pink or grey coloured ribbon and a gift tag.
Good for you and elephants too! The Kandula Tea Company is proud to support the Pinnawela Elephant Orphanage in Sri Lanka.