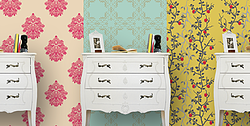 At The House of Mischief nothing is as it seems, because all of our creations hide secret tales.
We design and produce wallpapers, cushions, home furnishings and ceramics based on classic designs but with a twist. Our creations subtly hide camouflaged images that tell intriguing stories. And like optical illusions, it's in their subtlety that lies their beauty.
Our range is created to suprise, entertain and have a giggle. And of course to make your home look gorgeous!
The stories hidden in our designs make our products also fantastic gifts - a surpise within the surpise. Just imagine their face when they finally discover the disguised tale...
If you are looking for character, individuality and humour, then you have knocked on the right door. Come on in!
All of our products are made in the UK by artisans and specialist factories to ensure unrivalled quality, support the local economy and help the environmental effort. We use only the best materials to provide products of the highest calibre.