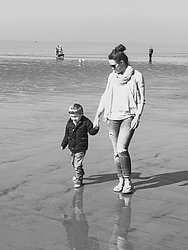 From growing up in the small town of Caerleon, South Wales, it's surrounded with traditional properties and steeped in history, therefore the love of traditional, vintage and shabby chic architecture and interior evolved. Through my first home development project I soon came to realise that there was a huge demand for shabby chic home furnishings. The planning and researching began and from there 'The Hiding Place' online was born and open for business. I have grown considerably but felt I wanted to be a part of something else, a little more exclusive and unique and also share with the world, my unique ones off's and this is when I discovered Not on the high street.
I have grown considerably and now run my small business from a small shop in the market town of Usk, Monmouthshire and also around my little boy Harry and take pride in having great customer service and high standards.
I also have a wide range of seasonal gifts available and I aim to update these as regularly as possible to give you the best range. All items I stock have been lovingly hand picked from a huge selection of supplier and put to you in one place...It's everything I have/would lilke in my own home.
Thanks for discovering us online.
Love Jess, Harry and Seren (the ever glamourous labrador).