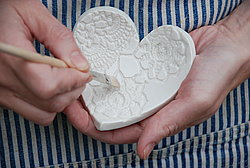 The Heart Store is where you will find hearts of every description, all in one place. The British have always had a love affair with hearts whether it's for newborn babies, loved up teenagers, valentines or just to let someone know you're thinking of them. It seems that we just can't get enough of hearts!
So we thought what a great idea to have website housing a fabulous range of heart themed products. You can find objects ranging from prints and textiles, jewellery and fashion to homewares. We are a one stop shop where we bring together a contemporary mix of functional, beautiful and comical goods to you, all made to a high standard.
Our products are sourced from all over the world from here in Devon to South Africa. We work with individual and talented craft people that produce unique and beautiful handmade things for us to enjoy. We use companies that are local to us and that practice in fairtrade co-ops.
We also source products from companies that simply stock the most gorgeous stuff that we cannot resist!