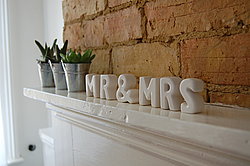 The Gift Studio is a family run business and we potter about overlooking the beautiful fens in Cambridgeshire. We aim to bring you gorgeous lifestyle accessories and adorable finds for those special events in our lives. We have developed our range of gifts and letter art that we feel is simple and stylish.
We believe our homes are about the people in them and our designs reflect this. Our products are absolutely unique.
Have a browse through and if you have any questions just click the 'ask seller a question' link and we'll be happy to have a chin wag!