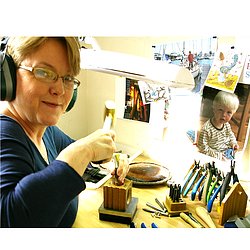 Welcome aboard! I'm Victoria Harwood, the founder of The English Shipmate, silversmith and sailor.
The English Shipmate was born when I stamped "Sail away with me" on a copper fob for my husband.
Many of the designs featured here are inspired by sailing Meridian, a friend's classic Yawl on blustery Solent days, between Blighty and the Breton coast. The rest by making presents for friends, family and customers. After all, life is about the crew you sail with; our voyages of the heart.
I remember loving making a heart-shaped enamel badge in metal work at school, but being discouraged in favour of a more academic path. I've spent time as a national magazine journalist, a lecturer of typography and literature and as a creative for agencies for household brands.
But the call of the sea, and finally, after years, our own little shipmate, meant a change of course. Now it's a life of making things that matter between people; between the school run and the tea run with my old mum.
It's a privilege to create something solid and completely analogue for others to share with the people they love; that'll last forever with a lick of polish.
We're old romantics here, so if you need your item quickly or would like some advice, please contact us via the "Ask seller a question" button. Apart form crazy busy times, such as Christmas, often the lead time is only 2 to 3 days for UK delivery.
We offer a very personal service - each item is made from scratch in my studio near Bath - a labour of love from raw material, to sending your item out in our British-made gift box.
Our land crew include: Dan on copper planishing; Cherry Nana on post and tea duty; small son Kit on big ideas for "What to do next..." and, of course, First Mate Philip.
We are delighted to have been commissioned by the RNLI. We carefully source as many materials as possible from the British Isles and keep chemical and power use to a minimum.
Thank you for coming aboard! Victoria and the Crew x
All text, product design and images © 2013 Victoria Harwood. All rights reserved. All intellectual property rights are and will remain the property of Victoria Harwood trading as The English Shipmate.