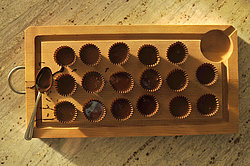 The cacao bean is the thing all chocolate is made from and Chocolution exists to reconnect you to the magic of this special bean.
Chocoluton provides experiential gifts, especially designed to provide chocolate lovers of all ages opportunities to learn more about their favourite food.
Cacao is one of the healthiest foods on the planet; it has three times the antioxidants of green tea and twice the levels found in red wine. When consumed pure cacao causes your body to release endorphins, leaving you feeling happy and relaxed. In the standard chocolate making process these benefits are lost as the cacao is heated to over 100 degrees Celcius. Our cacao is of the finest quality, single origin, fina de aroma varieties only and is never heated above 46 degress Celcius.
Chocolution is the UK leader in educational workshops, partnering with Royal Botanical Gardens, Kew for over 5 years to deliver bespoke chocolate workshops each Easter. The range we have on offer is a simple extension of our desire to reach as many chocolate lovers as possible. To share with them the opportunity to get to know their favourite food better. Out of this we hope to create the conditions for a shift in the UK chocolate market-place, away from factory (industrially) processed to craft (small-batch) chocolate production.
Craft chocolate production creates chocolate superior in taste, nutrition and which is sustainably grown.