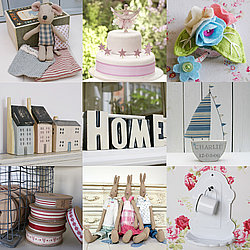 Welcome
At The Chic Country Home we aim to provide our customers with a personal and pleasurable shopping experience. We are a dedicated family run company, who pride ourselves on our service and the harmonious mix of gift and home accessories which we sell. Therefore every item has been hand picked for its style, quality and attention to detail.
Our collection can be identified by the following categories: The Nursery, Gifts and Home Accessories.
The Nursery: A simply beautiful collection of stylish nursery accessories, gift and heirloom pieces. Ideal presents for a new arrival, christening or birthday.
Gifts: Gorgeous gifts that are just perfect for treating yourself, friends or loved ones. From classic floral wash bags to divine smelling pampering treats. Every item will be a pleasure to receive.
Home Accessories: We are constantly sourcing products that are perfect for adding those small touches. It's this attention to detail that can make a room. A style we know our customers have grown to love.
We hope you enjoy browsing through our collections and please don't hesitate to contact us if you have any questions.
Best wishes
Faye