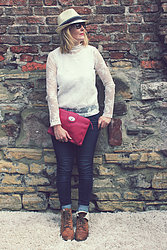 Part vintage chic, semi-boho and a little experimental with my style - I am Chrissie - the girl behind Teals Boutique. I hope you love my collection, which is inspired by the best of the decades I missed by bringing you classic styles of men's and women's leather bags from the 1940s, 1950s and 1960s era.
I strive to bring you bag designs which combine edgy with smart tailoring for those who appreciate timeless pieces of leather bags and accessories.
Whether you prefer to end the day with a satisfactory cigar, a sip of a good whisky or an evening of bright lights and music, I hope a classic bag from my collection will accompany you for any occasion.
My boutique was officially established in the North East in 2010 and to this day I spend my time seeking inspiration from vintage collections and to this day I work my from my Gosforth studio to bring you modern classics.
I am proud to share that my bags have featured in Conde Nast Traveller and fashion blogs far and wide, as well as sending out orders to clients as far away as Australia, Singapore, Dubai, Canada and Switzerland.
My philosophy has always been to focus on quality and this will remain at the core of every product I design and produce. I share the same beliefs as NOTHS and am very privileged to host my boutique here.
Thank you for taking the time to read my story xx