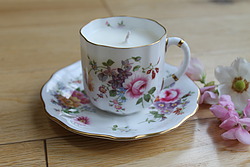 Fabulous homeware, handmade with love from.
We at Teacup Candles believe in giving vintage china a new lease of life by creating beautiful handmade products that are perfect for any occassion.
We take every effort to create pieces that are unique, using pre-loved china and ceramic finds and making them something wonderful. As we use vintage china for our teacup candles and cake stands most of our items are one-off or very limited in number for a truly unique product.
Our cake stands and teacup candles make beautiful table centre pieces and will provide your table with a wonderful focal decoration. Perfect for display at weddings, parties or other special occasions.
They also make perfect gift for any occasion - weddings, Mother's Day, Christmas, birthdays and anniversaries.
Our teacup candles are hand poured with natural eco soy wax and scented with a variety of fragrances to compliment the beautiful cups. Our cake stands come in both two and three tier designs that combine vintage and new plates to create a unique look. The handles we use for our cake stands are of the very best quality and are manufactured in the UK.
We have also added a new product to our range which has quickly become a best seller - stunning glittered wine glasses which can be personalised with a monogram or your own message. Each glass is hand glittered and etched by us to ensure the very highest quality. A perfect gift.
All of our products come boxed and tied with ribbon ready to give as a gift.
Made with love in Leicestershire.