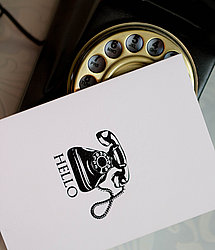 Welcome to Tangerine Dreams Creative: beautiful bespoke stationery. Established in 2008, In the Tangerine Dreams Creative Studio there is plenty of passion for the written word and receiving that special piece of beautiful stationery from someone for that extraordinary event or just purely to say "hello" or "thank you"
I am a foil and letterpress specialist. Using these techniques I design and build bespoke wedding event and social stationery. The 'Made Ready' collection boasts a selection of contemporary unique cards and ready to write in packs of wedding stationery.
Inspired by vintage graphics, ornate furniture and elaborate prints and images, using quirky typefaces, touching phrases, and hand drawn artwork, all pieces are hand cut, hand pressed with skill and love in Hampshire England.
All of the Tangerine Dreams Creative items are crafted and built buy hand and made to each order, using the highest quality of card stocks and shimmering or colourful foils.
Enjoy my collection!