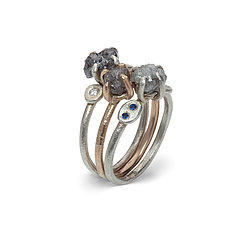 Tamara Gomez designs and hand crafts fine jewellery using rough diamonds, semi precious stones, sterling silver and various carats of gold.
Born in Sri-Lanka, Tamara trained at Loughborough College of Art and Design and the Royal College of Art.
All of Tamara's work is designed and handcrafted in her studio at Cockpit Arts in central London.
Tamara's jewellery has an natural luxury and enduring style derived from using traditional gold smithing techniques while maintaining an idiosyncratic approach to making and her inspiration embraces nature, spirituality, intuition and serendipity.
Tamara regularly uses assorted cuts of diamonds including raw and rose cut diamonds and her signature 'Rough diamond collection' celebrates the raw beauty of natural diamonds.
Tamara also regularly works to commission on bespoke designs including remodelling client's inherited jewels in Tamara's signature style.