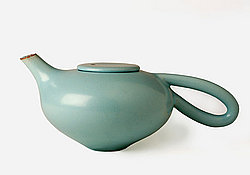 Sylph Baier produces contemporary tableware from her Brighton-based studio, which is accessible, sensuous to touch, functional and looks good with or without food. Her work is sold in craft galleries and exhibitions throughout the United Kingdom.
Each earthenware pot is individually hand-thrown by Sylph and sometimes altered on the potter's wheel to take the piece out of it's spherical dimension. The soft, tactile glaze is available in five colours and is dishwasher proof.
The simple, timeless designs have been developed and refined to represent a collection of unusual kitchen and home-ware.
Pots will vary slightly, due to their handmade nature.