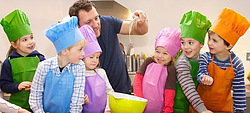 Super foods for super kids. Sweetpea Pantry produce bake-at-home mixes for biscuits, pizza and pancakes with nutritious ingredients such as wholegrain barley and rye flours, oats, quinoa, chia, teff and flaxseed.
Sweetpea Pantry knows you care about what your family eat and want to make it easy for you to whip up wholesome savoury and sweet snacks and meals with simple to follow directions for all the family. Using wholegrain flours and unrefined sugars, all of the mixes are 100% natural, bursting with goodness and using ingredients you may not have in the pantry.
Perfect for making for your family, or baking with your children to teach them about good food and baking, whilst catering to those short attention spans and saving you precious time by having all dry ingredients measured and ready to go. For those occasions you may not have the time, energy or inclination to start from scratch (hey we're parents, we've been there!).
A great gift or pantry staple for any foodie family.