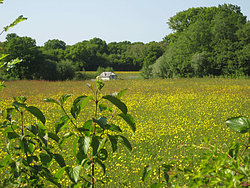 It has taken 25 years of hard work to recreate a landscape of picture postcards from centuries ago. That landscape is Swallowtail Hill, 40 acres of nationally acclaimed wildflower meadow, traditionally managed woodland, ponds and streams, in the Weald Area of Outstanding Natural Beauty, all run for conservation.
Over recent years, Sarah and Christopher have opened their farm as a destination for stylish glamping holidays and weddings where couples and families stay in hand-crafted cottages-on-wheels and take a breather from the pressures of everyday life, create their own memories and enjoy less complicated times for a while.
Managing this stunning landscape and cultivating its timeless feel led Sarah and Christopher to use its fruits to make as much traditional produce as they could. And so the Swallowtail Hill range of handmade jams, jellies and chutneys was born. Visitors to the farm have long enjoyed them – and now everybody can. The range is always seasonal, lovingly made in small batches from fruit and veg sourced wherever possible locally – including from the hedgerows and trees on the farm – so when it's gone, it's gone. Until next year. As you'd expect the range has no artificial preservatives, colourings or flavourings.
The range puts a modern twist on some traditional favourites. A touch and taste of nostalgia – just enough to make you say, 'remember when…'