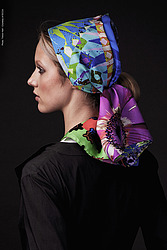 Award winning print designer Susannagh Grogan's classic range' scarf collection is designed exclusively, using a variety of techniques, merging traditional and modern.
Susannagh has worked as Creative Director and Senior Designer for prints, having studied at Chelsea College of Art & Design in London. Whilst working extensively in New York, London and Cape Town, Susannagh designed for a diversity of clients including Macy's, Tommy Hilfiger, Victoria's Secret, Liz Claibourne amongst others. Her designs have also appeared on well know brand names. Her scarf label was launched in 2009.
Susannagh Grogan scarves were selected as gifts for Michelle Williams, Melissa McCarthy amongst others at the US-Irish Alliance pre Oscar party. Irish Attorney General, Máire Whelan selected to give a Susannagh Grogan scarf to Associate Justice of the Supreme Court USA, Ruth Ginsburg when she was a guest at The White House.
Recent awards:
Irish Tatlers Business Woman of the Month – June 2013
Winner New Product Award Showcase – Fashion & Accessory Category – 2013
Showcase New Product – Fashion & Accessory Category – Highly Commended 2012
Accessory Designer of the year – 2011 Fashion Innovation Awards
Showcase New Product – Accessory Category – Highly Commended 2011