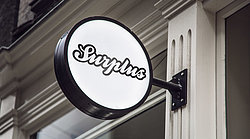 Surplus was launched in the summer of 2013 with the purpose of providing fun and interesting prints on clothing.
Surplus is ran by Son & Mother team Mike and Sue, based in Cheshire. Mike a graphic designer has worked for some of the biggest brands in the world and now brings his playful minimilistic style to Surplus. Sue is the one with the real skill for all things clothing and can be found most days behind a sewing machine!
Surplus to Requirements is a clothing and lifestyle brand which takes influence from street and youth culture, along with music and urban art. Handmade and hand-applied, our patch-pocket T-shirts are all limited edition, and given the nature and origin of the fabrics, not one design will ever be the same.
All the pockets and prints are made or printed in our Cheshire, UK studio.