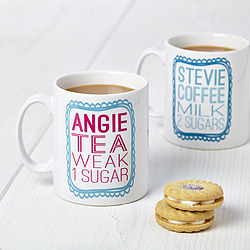 Connoisseur and addict of all paper goods, Leeanne Andrews believes in the lost art of letter writing and sending cards for no reason. Leeanne founded SuperCaliPrint in 2013 after a life long love affair with typography, paper and the giving of gifts. Her mission was simple: to design social stationery that could be given all year round not just for gifting occassions. For those times your friend needs a little pick me up or you need to say sorry to a loved one for being grumpy.
Today, SuperCaliPrint has grown and expanded our range from the 12 cards we started out with. We now offer a wide range of cards and other stationery as well as our mugs, in particular our hugely popular personalised drinks mugs.
We look forward to continued growth and most importantly designing and making things which we love.
Everything we do always comes straight from our heart to yours.