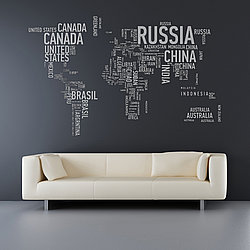 Hello and welcome to the sunny side up store! We've been with Not On The High Street with our collection of vinyl graphics for 18 months now. We have been making vinyl graphics in house for over five years and are very confident you will love our exclusive selection of available products. Our range of graphics are designed to instantly transform your wall from blank canvas to an inspirational living space in a matter of minutes!
A little tip from us: Think bigger than just walls... our graphics can be applied creatively in so many locations. What about a glass surface? Instantly transform windows, shower doors or glass tables with our exciting range of vinyl graphic designs.
Our entire range of graphics are cut bespoke here in the UK.