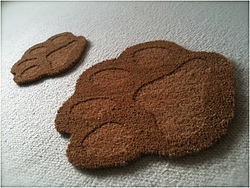 I've designed and made a range of functional but stylish door mats at my base in the Cotswolds. Stubble Mats are a stylish alternative to a small rug or mat, and come in a variety of funky designs, the range continues to grow! They are widely used in entrances, hallways, kitchens, lounges, utility rooms, bathrooms, garages, boats, caravans, offices, hotels and shops!
Stubble Mats offer a unique way to brighten your doorsteps and homes, banishing the boring rectangular entrance mat! They make perfect pressies for birthdays and Christmas, and for all new home owners, animal lovers or car enthusiasts.
I hope you like my products.....new designs coming soon!