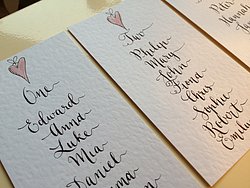 I have been a calligrapher and illustrator for many years and founded Strawberries and Cream Stationery as the antithesis to the computer generated stationery so readily available.
As as a child I was fascinated by handwriting and I loved to collect old fountain pens. Going into a proper stationer's was like going into a sweet shop for me!
Today, as more and more people are reliant on computers, the art of good handwriting seems no longer important.
But, calligraphy is making a comeback! People are realising that no matter how many fonts are available on the computer, nothing beats the hand lettered word.
My illustrations hark back to halcyon days, reminiscent of long summer days in the countryside. They are simple but stylish and totally unique.
Every piece of stationery is calligraphically handwritten with a traditional dip pen and ink. My illustrations are hand painted in subtle watercolours.
I use several calligraphy scripts, the most popular is a modern calligraphy style. It has a fluid base line which creates a more informal style, just as elegant as Copperpate but with a quirky side!
I can offer a bespoke service and I provide stationery for weddings, christenings and other occasions at affordable prices.
If you are looking for something a little different from the ubiquitous printed stationery, you need look no further than Strawberries and Cream Stationery.