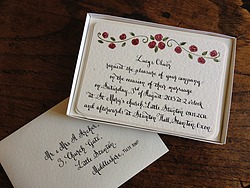 I have been a calligrapher and illustrator for many years and founded Strawberries and Cream Stationery as the antithesis of the computer generated stationery so readily available.
My designs hark back to halcyon days, reminiscent of long summer days in an English country garden. They are simple but stylish and totally unique.
Every piece of stationery is hand written in an upright copperplate calligraphy style, and my illustrations are hand painted in subtle watercolours.
This is a bespoke service and I provide stationery for weddings, christenings and other occasions at affordable prices.
If you are looking for something a little different from the ubiquitous printed stationery, you need look no further than Strawberries and Cream Stationery.