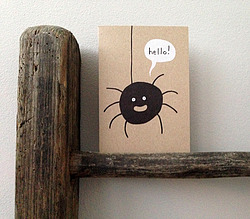 Inspired by food, nature and fun, Stormy Knight's contemporary designs are laced with a charmning dose of humour that's sure to put a smile on even the grumpiest face!
Printed onto gorgeous recycled stock and laced with a charming dose of humour, they are the perfect way to brighten anyone's day!
We make every effort to be good to the environment. All of our cards, notebooks and wrap are printed onto 100% recycled stock using only vegetable based inks.
Stormy Knight was launched in 2013 by Bristol-based illustrator Sarah Knight. A lover of animals and silk-screen printing (among many other things) it's easy to to see the inspiration behind Stormy Knight's designs. Sarah graduated in 2006 with a first degree in illustration and has been drawing and printing ever since, illustrating for newspapers and magazines alongside designing the Stormy Knight product ranges..
The sun may be fun, but storms are more exciting!