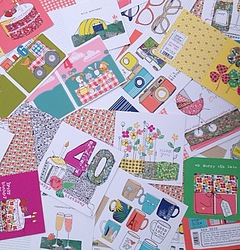 STOP THE CLOCK Design specialises in producing distinctive, quirky, design led products with a modern edge. We design, print and make hand finished greeting cards and vibrant artwork.
STOP THE CLOCK Design is an inspired union of quirky and traditional design methods. With our knowledge of texture, colour, surface pattern and stitch we can incorporate all these qualities into our products.
All our cards are designed, printed and hand finished by us at stop the clock design in our idyllic studio in the UK. By involving ourselves in the production of our cards each step of the way, we are able to tailor our designs specifically to our requirements and therefore guarantee a super, smashing, great end result.
Our cards are designed for special moments in time... for moments you wish you could stop the clock!