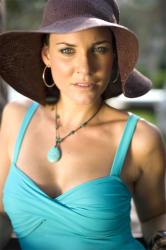 Who would have thought that is only three years since we launched our first collection – sitting in a coffee bar in Hong Kong - hoping desperately that people would love our first range of men and boys swim shorts as much as our family and friends did?!
Well, apparently it worked! With over 50 stockists now worldwide, as well as our very own beachwear boutique now open on The Westin Hotel Dubai; we are thrilled with these amazing successes and are looking forward to many more ways that we can improve your beach life experiences!
Our philosophy is fairly straightforward. We aim to provide quality and lightweight products that are easy-to-pack and great fun to wear. We design our collections to be versatile enough to make you look good on the beach, and beyond. We keep our ladies swimwear simple so we can go wild with our cover ups! We believe our clothes can make you feel good about yourself, without a life coach or dietician in sight!
Wishing you a sunny holiday!
See you on the beach,
The StarBlu team…..