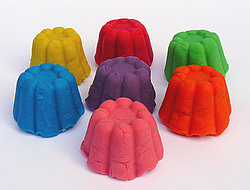 Squishy is a handmade natural super squishy dough that makes the perfect green gift for children - oodles and hours of imaginative fun and all completely compostable with 100% bio-degradeable boxes and pots for packaging.
Squishy was created by Lucy Norris, mum to three young, squishy children who wanted to play and make lots of mess and not eat broccoli or go to bed early.
With experience of working with children with special needs, Lucy saw a way to create a scented, natural dough that would be perfect for sensory play therapy.
With super colour experiments and fabulous smells, and then another step forward with amazing biodegradebale packaging, Lucy had created the greenest toy she could think of because it all got composted - every single bit!
Not only that, but it led to oodles and hours of play - the only thing stopping the children was their own limits of imagination. From sweets and cake shops, to dinners and cafes, to pets and monsters and aliens, the fun was never ending when there was a pot of SQUISHY about.
And because one of her own children was very sensitive to certain ingredients and very likely to shove things in his mouth that shouldn't be shoved, SQUISHY was made as natural as possible including organic flour and edible fragrance oils so that even a nibble of SQUISHY wouldn't be harmful (but so salty even Lucy's little boy spat it out...like his broccoli).
To make extra sure, Lucy got SQUISHY safety tested by top-secret scientists (well, maybe not top-secret but they were scientists) to European Safety Standards and they agreed SQUISHY was the best natural creative dough on the market and gave it a CE mark to prove it. Well Done SQUISHY! Now all you have to do is try for yourself.
(Grown-ups: SQUISHY may look and smell like the most divine thing you have seen since Krispy Kreme opened their doors, but it doesn't taste as good as it looks so always remember...SQUISH IT...SNIFF IT...SQUIDGE IT...BUT DON'T EAT IT.)
Choose from our bright and beautiful Squishy smells; Cola, Bubblegum, Cherryade, Tutti-Frutti, Strawberry Milkshake, Banana Smoothie, Orange Squash, Peppermint and Vanilla Cream.