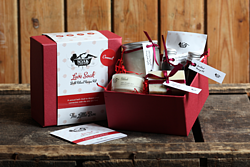 Ok stop, take a breath and relax… because that's what SOAK Yourself is all about. It's our firm belief that we all need to take time out of our busy lives to de-stress, relax and re-charge.
SOAK Yourself is a British luxury brand with a philosophy based on the ancient ritual of bathing and its beneficial effects on the body, mind and soul.
We offer a choice of seven different bath kits, each one created to provide a desired outcome from Blanching the Blues to Feeling Groovy. Each SOAK Yourself Kit contains everything you need for a truly special bath ritual, from the permission slip that lets you take the time to relax to the step by step guide that shows you how to maximize the SOAK Yourself experience
We also sell beautiful handmade soaps. Our products use 100% pure essential oils and the finest natural ingredients. Our bathing kits are made in the UK and we source British ingredients wherever possible. Each kit is hand-packed with love and attention in high quality boxes made in the UK.
Our handmade bath products are the perfect treat after a demanding day and make ideal gifts for loved ones too.