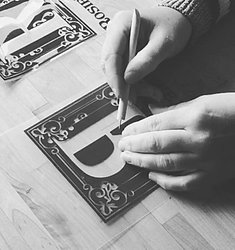 SnuggleDust Studios was born when partners Suzanne and John were looking for interior decor inspiration for their own children's space.
They decided it would be pretty awesome to create fun and friendly characters and designs that children would love, that would brighten up their world and generally make everyone who saw them smile . . . . . .
WE love to produce products that are child friendly, are colourful, fun and inspiring, but most importantly that children will love, we have some cool stuff for adults too!
SnuggleDust Studios produce interior decor products, specialising in Wall Stickers, Fabric Wall Stickers, Wall Decals, Children's Stickers and many Personalised Products that would be thoughtful gifts.
Our products are perfect for transforming any children's space and will easily transform your home with our Wall Sticker Quotes and beautiful scriptures decals.
We source only the best materials and all of our products are hand finished with great care and attention to detail here at SnuggleDust Studios. (it's a top secret location) in Bonnie Scotland...
We are always on hand to offer advice in choosing the right design so feel free to 'ask the seller a question'
We always love to hear from you.