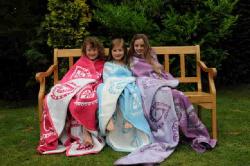 There are many beautiful baby blankets available but, when it comes to the older child, the choice is more limited. At Slumberbugs, we aim to put that right with a blanket range that caters for all ages from newborn through to young adult and beyond.
Children's blankets should be fun as well as functional and we believe design and performance are of equal importance. Our luxurious, velour-fleece blankets are woven in Turkey from a blend of cotton and acrylic, producing a premium quality product that is also amazingly soft on your skin.
Our love of vibrant colour and innovative design first attracted us to Australian designer brand, LocoLili! and we are very excited to offer their fabulous range of reversible headwear in the UK. Made from 100% cotton, their stunning children's headbands and sun hats are fun and fashionable as well as being comfortable enough to wear all day. We hope you'll love them as much as we do!