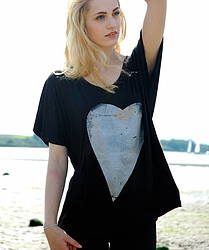 Young British fashion and textiles label SLC-SLC has just launched its new collection of British made garments from La La Land.
We use screen printing, hand dyeing, silk painting and digital printing to create surface patterns. Your garment will be entirely unique, so nobody will have quite the same dress as you!
Designs are inspired by the landscape around me in Suffolk. In my La La Land collection, I am recreating for my clients that sense of escape to another place. Hours spent sketching on the river banks, observing wildlife and the play of colours and water, have influenced the style and textures of the new collection.
The Royal Opera House, London, where I worked as a costumier, was another important influence. The feeling of anticipation, and then joy, when the curtain goes up is an experience I aim to give to anyone wearing my designs.
The emphasis is on being happy with wearing the La La Land Collection; so smooth cuts and subtle colours prevail, meaning a large number of people, all different shapes and sizes can wear and enjoy SLC pieces. Pieces are cut to fit many, but be entirely unique in how they are carried by their wearer.
We support British manufacturing, using elastic from one of the last UK manufacturers in our knickers and British made wool and cotton. We also source all our materials in Great Britain.