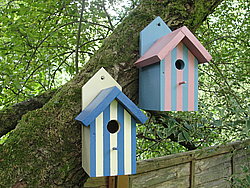 Croeso! Welcome!
Siop Gardd (Welsh for garden shop) is the creation of Ron, Patti and Stefan.
Working from our home in the heart of the Snowdonia National Park , we handcraft garden and home accessories.
Our story began in 2008 when the recession hit us badly and we decided to pool our talents and see what we could do to create a new little business. With Ron's background in carpentry we knew it had to involve wood! As we all loved feeding the wild birds that came into our garden, we decided to make colourful bird houses. From then on we began to create more and more products, encouraging our customers to work with us. Some of customers gave us such good ideas and many of our products are a result of their inspiration!
Most of our products are personalised and it gives us such a sense of satisfaction knowing we are making something that is entirely unique to the recipient.
We care very much about the environment so we always use materials that are either from a sustainable source or recycled. Our paints are also all water-based and non-toxic to wildlife.
It is also our passion to help other small businesses, so occasionally we are able to include in our store high quality products from other artisans and crafters, particularly products that help support small communities in other parts of the world.
We love to hear from our customers, so please feel free to contact us!