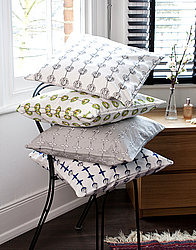 Siobhan McIntosh London is a stylish homewares and accessories brand founded by mother and passionate designer-maker Siobhan McIntosh.
Her uniquely designed collection includes cushions, aprons, teatowels, purses and cosmetic bags. When designing her products, quality and style are high on the agenda. Siobhan's beautiful range is carefully handmade in England using splendid materials.
If looking for something special for you, your home or a loved one, Siobhan McIntosh London is worth the click.