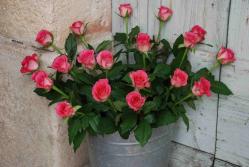 As a professional garden designer and florist, Carolyn Dunster, the founder of Simply Roses has worked with just about every variety of flower but given the choice, she would choose to use roses every time.
They are always the star performers in any mixed bouquet and they are the perfect flower to work with. Roses are amazingly versatile flowers - beautiful as a single stem or bunched en masse. They come in a breathtaking palette of colours.
Simply Roses was born out of Carolyn's personal passion for the world's favourite flower. The range of horticultural and decorative accessories available from Simply Roses is designed to reflect this and inspire fellow gardeners and plant lovers.