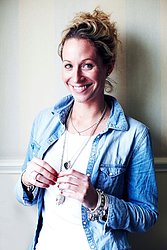 Already a firm favourite with the London style set, Tilly Sveaas's new jewellery designs for Silver Service are achingly cool and definably wearable. From Wing pendants, to Skull rings and her most unusual carved bone pendants, her designs embody off-duty Luxury and can be worn with any outfit to give that grunge/glam edge that London does so well.
The main inspiration behind the Silver Service Jewellery designs is protection. Wings are a recouring theme throughout, and this is because angel wings symbolise protection, a guardian angel, someone to watch over you, flight and freedom.
Sveaas's designs interweave innocence with the sinister as her delicate butterfly, hummingbird and wing pendants demonstrate. Provocative, beautiful and intricately detailed the paradox lies in the material, animal bone. Luminous and instantly eye-catching, these one-of-a-kind necklaces work well to add texture to any look, whether over a denim shirt, white tee or to add a final touch to a statement dress.