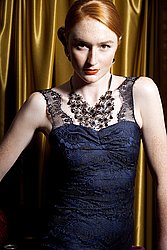 The head-turning style of the vintage dress, the luxury of today's fabric, hand-tailoring for the fit we love now: Silk & Sawdust gives a new twist to the 20th century frock.
So much of today's design is inspired by the last century. From the utilitarian elegance of the 40s to the frivolous innocence of the 60s – it was a time when dresses were dresses – things of beauty designed to grace our figures and add a little spring to our step. We've all seen the old photos, swooned at the glamour of yesteryear's film stars, wished that gem in the charity shop wasn't quite so well-worn…
Bringing to life some classic vintage designs with stunning, modern fabrics, Silk & Sawdust is creating something different. We've taken the best of 20th-century dress design and brought it to life again. The designs stem either from vintage dress patterns from the 40s to the 70s, or original pieces. They all retain that special spirit but now they have a sprinkle of Silk & Sawdust.
The fabrics have been hand-picked to complement each design, and include Liberty silks, Paul Smith cottons, and stunning Thai silks. And every piece has been hand-tailored and adapted so that the fit works for 21st-century women.
We hope you find something you love!