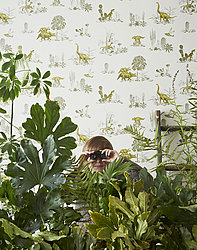 Sian Zeng is an award winning London based design company specializing in wallpapers, interior accessories and gift items.
Established in 2010, Sian Zeng products are known for their narrative based designs which are often magical with an eccentric charm.
This year we are extremely happy to have launched the magnetic woodlands wallpaper that allows users to create their own stories on the wall by moving a cast of magnetic characters and buildings on the wallpaper and write on the speech bubbles. We are also proud to have dressed Hilary Duff's new nursery with our magnetic woodlands wallpaper.
Sian Zeng products are now stocked in prestigious shops worldwide like the Southbank Centre Shop, Anthropologie and Huiszwaluw.
The designer, Sian Zeng was awarded the William Atkinson award in 2008 by Central Saint Martins and in 2010/2011 the Ellle Decoration young talent of the year award by Elle Decoration. She was born in China and moved to Hungary at the age of seven. Her multicultural upbringing has helped inform the imaginative concept of her work. With her passion for 'crazy' stories and beautiful patterns, Sian continues to explore the possibilities of new and traditional technology to create narrative led surfaces for quirky interiors.