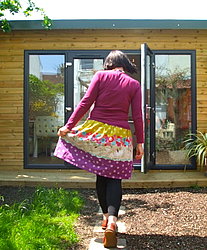 Hello and welcome to Sewgirl.
Sewgirl offers a range of sewing kits and charming products designed and created by ex-fashion textile designer Fiona Hesford.
Inspired by folk and retro styling, Fiona created 'Sewgirl' in 2009 after writing for craft books and sewing magazines. She launched a range of sewing kits and patterns for making her projects with the aim of inspiring others to sew.
Based by the sea on the South coast of England with her husband, two children and a little cat called Madame Mabelline (her studio companion), Sewgirl's products are whimsical, light, bright, cheerful and cute and will hopefully make you smile!