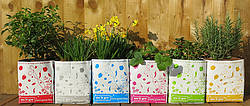 See It Gro is a small family run business based in Clapham, London, and with the help of a great team at our factory in Sri Lanka we produce a refreshing range of mini grow bags.
We love to grow our own fruit and vegetables and noticed in garden centres how shoppers struggled with heavy grow bags. We wanted to take the hassle out of gardening, hence the mini grow bag was born. Our idea was to make something, light, clean, compact, easy to use as well as environmentally friendly. See It Gro have produced a range of six bright and colourful grow bags for gardeners to choose from - pink, blue, lime green, red, yellow, and silver.
Our bags are ideal for even the smallest space. All the grower has to do is add luke warm water, watch the coir in the bag quickly expand (believe it or not this only take 10-20 minutes), add plant food and they are ready to plant their young plant of choice. Strawberry, tomato, chilli, pepper, herb plants do particularly well. Commercial growers in the UK are using our coir to grow their plants... it is a great growing media.