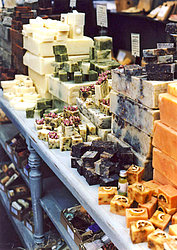 Established in 1997 in London's Brushfield Street next to the historic Spitalfields Market, Savonnerie set out with one aim, creating stylish and irresistible 100% Natural Bath & Body products that makes you look and feel special.
Discover the secret to enhanced skincare with Savonnerie's range of botanical enriched products that blend the therapeutic qualities of pure Aromatherapy Essential Oils with skin nourishing ingredients including Shea, Olive, Coconut and Jojoba oils.
Whether a sublime bath therapy to escape and restore your balance at the end of a busy day or a captivating and uplifting tonic that recharges your spirit, Savonnerie expertly blends Pure Essential Oils to delight your senses.
Only 1st quality natural ingredients are used to ensure all treatments gently cleanse and nourish your skin and gives you that healthy look and feel without the irritating dryness of many commercial products.
And by combining beautiful design with superior natural skincare Savonnerie's Boxed Selections make unique and memorable gifts for that special someone on any occasion.
All products are free from synthetic SLS, SLES, Parabens, Fragrances and Colours and gives you the enhanced skincare you deserve and the irresistible bathing you'll love.