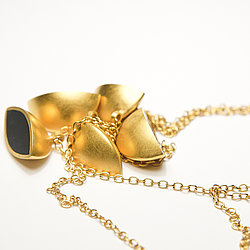 Sarah Straussberg is an up and coming jewellery designer, creating beautifully made and desirable work, drawing on the value of simplicity.
Straussberg's jewellery combines sculptural forms with wearable designs, creating fashionable and easy to wear jewellery that will compliment any outfit. The work comprises of Sterling Silver with 18ct Gold vermeil. Some pieces include black resin, encased within the brushed matt surface of the Gold. Inspiration often comes from patterns in nature and then Straussberg develops forms and structures from these findings. The 'Lily' range was inspired by breaking down the original forms of the 'Ellie' range and creating the 'skeleton' of the form.
The range includes rings, pendants, chains, lapel pins and earrings.
If you have any queries, please don't hesitate to contact me.