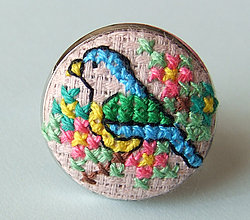 Welcome to Magasin, a store-front for designer-maker Sarah Fordham.
Originally from Kent, Sarah moved to the north of England to study Fine Art where she first discovered her love for all things stitchy.
Specialising in Cross-Stitch she has created a selection of jewellery, accessories, cards and decorative homewares.
Most known for her oversized embroidered badges, worn by the likes of Radio DJ and TV presenter Fearne Cotton.
Sarah's first craft project book 'X-Stitch' is out in October 2013, available through GMC Publications. Full of 20 cross-stitch projects, enabling you to make everything from a set of buttons to customized sneakers! X-Stitch teaches you the basics of 'How to cross-stitch' and give you all the tools you need to work on your own designs.