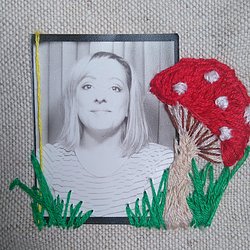 Originally from Kent, Sarah moved to the north of England to study Fine Art where she first discovered her love for embroidery and needlepoint.
Specialising in Cross-Stitch she has created a selection of jewellery, accessories, cards and decorative homewares.
Most known for her oversized embroidered badges, worn by the likes of Radio DJ and TV presenter Fearne Cotton.
Sarah's first cross-stitch book 'X-Stitch' (GMC 2013) is full of 20 cross-stitch projects, enabling you to make everything from a set of buttons to customized sneakers! X-Stitch teaches you the basics of 'How to cross-stitch' and give you all the tools you need to work on your own designs.