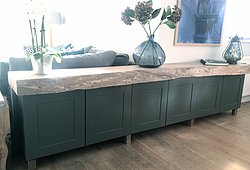 Welcome to Sandman Home and Garden. We are a small family run business; a husband and wife team, offering you unique, beautiful, bespoke pieces of furniture and garden planters for your home. Each piece you see is designed by ourselves, hand made and hand painted with great care in our Chipperfield workshop to ensure you receive wonderful furniture for your home. Everything is made to order, providing a truly bespoke piece using the very best materials. You can be sure each piece of Ash or Oak wood is chosen for character with great care for especially for you.
Continually growing and always looking for new ideas, we have just completed a 'special paint effects' course in London which has inspired new designs that we look forward to sharing with you soon.
We pride ourselves on offering you charming, unique, beautiful pieces of furniture and planters for you to enjoy. Wonderfully Stylish and inspiring for your home.