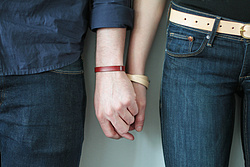 Sail is a collaboration of two creatives who both have a history of photography, fashion and design. Together they wanted to create a small, timeless yet stylish collection of leather products for men and women.
In their small Derbyshire workshop, they create hand-crafted leather products, using traditional techniques and methods. Each piece is made using only the finest natural tanned leather, leather which goes through a natural tanning process using ingredients found in vegetable matter such as bark, leaves, fruit and roots, etc.
Each product is taken through many steps, and each step is done by hand. Even the sewing process is made stitch by stitch with their own hands, using premium military graded 1960's Barbour Irish linen thread which they hand-wax using pure beeswax. By using such methods, all of Sail's products will develop a natural patina which is a natural ageing process, creating a beautiful piece, establishing its very own character.