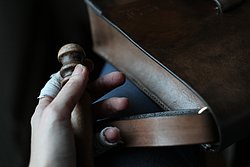 SAIL is a British brand created by duo Lisa & Leon. Both have a history and passion in photography & fashion and together they design and create classic handmade leather accessories in their workshop based in Derbyshire, England.
Using only the finest British leather and materials, they pride themselves in still using traditional leathercraft techniques and methods from equestrian hand stitching to a hand dyeing process - keeping the beautiful craft of leather working alive.
They have recently worked on collaborations with Olympus and British based fashion and lifestyle bloggers and more recently, were selected to be in the Vogue UK gifting wishlist.