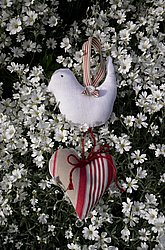 Since 2003, designer Sacha Smith, based in the town of Peebles in the Scottish Borders, has used antique French linens, patchwork quilts and embroideries to make her range of cushions, home accessories and handbags.
Sacha utilises fabric from items which are no longer useable in their original state, therefore preserving those wonderful old fabrics for future generations to enjoy. Sacha scours antique fairs and brocantes, both here and abroad to find just the right fabric and trims to make these beautiful heirlooms. Each piece is carefully cleaned and then turned into a unique item with all the character that only true vintage fabrics can give. In this day of environmental concern we believe in taking something which would otherwise have been discarded, and turning it into a beautiful and original piece, which can be used and loved again for many more years to come.
We are pleased to announce that we have just launched our range of monogrammed home accessories. These include cushions, hearts and aprons. Each piece is made from antique French linen and the monograms are available in a choice of colours- a truly wonderful and unique gift.
Our work has been featured in many magazines including country living, 25 beautiful homes, antiques and gardens