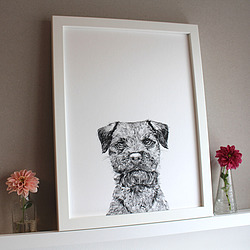 Ros Shiers is an illustrator who designs typographic and illustrative prints and stationery. Her designs are available on a range of art prints, greetings cards and wrapping papers.
Ros works from a studio in her East London home with her beloved Puggle Bailey at her side. Ros' love of drawing shines in her detailed pencil studies and signature dog portraits collection. The dog and animal portraits are a favourite of the artist and a collection that grows as requests for different breeds and animals come from customers near and far. Ros' inspiration for these portraits came when Bailey joined the family. As a huge dog lover she understands how many of us adore our four legged friends and how much happiness they bring to our lives so hopes her drawings help people to celebrate their pets.
Ros is also inspired by uplifting words and phrases which she brings to life in her playful typographic prints. Her prints work beautifully alone and also look lovely hung in a group as your collection grows.
Her products and prints have been featured in various publications including Elle Decoration, Easy Living, The Telegraph and The Independent.
All Ros' products are proudly designed, printed and manufactured in the UK. Ros is always adding new designs to her collection so do stop by again.