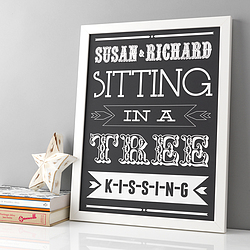 Rosie May was an idea that started after we bought a standard print from a well-known shop that we then saw everywhere we went. We realised we were bored of buying prints that everyone and their aunt has, and we're sure you are too.
We want to bring a smile to your walls with our personalised prints that we can guarantee your friends won't have. Capture the essence of your family life, the magical moments and the treasured memories that you want to last a lifetime. Our range consists of bold art prints for your wall and on natural cotton bags that are the perfect gifts to celebrate those key moments.
Whether it be the birth of a new baby, a marriage, a hen or stag celebration, a new love or a new home, we have the print for you. And not to be forgotten, our 'Once Upon a Time' series captures the hearts of the little people in your life.