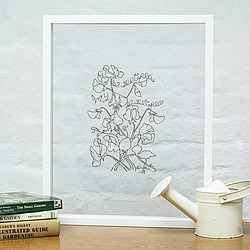 Here at Rosie and the Boys we are committed to offering fantastic contemporary design and beautiful, high-quality handmade products. With a background in professional floristry, it's perhaps not surprising that Rosie's work combines intricate papercutting skill with inspiration from nature and a professional understanding of design.
As mothers of lively boys, family and friends are important to us so we always try to put ourselves in the position of our customers when creating personalised work - thinking about who is going to receive it and what message the customer wants the papercut or greetings card to convey. We love to think of Rosie's work marking special occasions in people's lives and being treasured long afterwards.
We take great pride in Rosie's unique designs and in the quality and value of everything we make and sell. We're proud to say that all Rosie's papercuts are available either as a lasercut or painstakingly cut by hand in the traditional way, using just a craft knife, a sheet of art paper and her imagination. As every personalised papercut is cut to order, no two are identical, so when you purchase from Rosie and the Boys, you can be sure you are getting your own personal work of art.