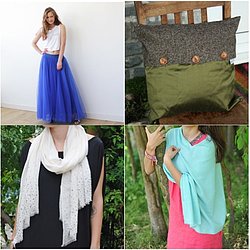 Rose & Lyons is becoming known for its carefully chosen collection of womens wear, accessories, gifts and fun items for your home. A modern day emporium of loveliness mixed with a dose of practicality! Take a look - you never now what you may find!
Our stunning womenswear, often has a gentle nod to yesterday but always features flattering body lines, a few bat-wings and a great amount of style! Most of our ladies clothing is incredibly versatile, can be dressed up or down, and includes a lovely relaxed casual collection as well as a more glamorous party range. Whatever your body shape, you will find an outfit to flatter you - our 'one size' REALLY does fit and, more importantly, suit everyone!
Being a curvier shape myself who can go up and down 2 dress sizes over a period of a few months (!!), I try to choose styles that will work if you go up or down in size, without having to have several sizes in your wardrobe!
Our clothing lines are largely British eg A Postcard From Brighton and Jami, and we will be increasing our British designer ranges.
Our handmade products are made near our base in Somerset from the highest quality tweeds, velvets and other fabrics. We can mix and match different fabrics and linings to order, ensuring your piece is completely individual.