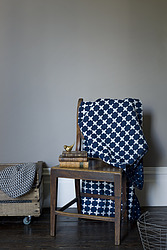 Roost Living is an online boutique selling stylish, functional and inspiring interior accessories for your home. We scour the country in search of the special and the beautiful, chosing our products carefully from makers around the UK. We bring you a collection of beautiful, elegant and timeless pieces.
We've chosen products to decoration your home, with neutral tones, elegant lines, but always with a bit of fun. Our collection includes cushions, blankets and storage solutions and vintage inspired, reclaimed and remade products.
We offer a lovely shopping experience, selling unique and handcrafted products that arrive beautifully packaged with the utmost care and attention. We hope you enjoy your Roost Living products.